The Bob Veal Calf Concern
Jerry Bertoldo, Dairy
Northwest New York Dairy, Livestock & Field Crops
March 1, 2013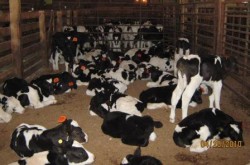 Bull calves in the dairy business are most often a topic that producers would rather not think about. The financial returns from selling them are usually low. There are unavoidable labor costs in their care. The sooner they leave the farm the better is the usual mantra. Too many of these critters become bob veal - early slaughtered calves with minimal economic value. Farmers are reluctant to put more time and effort into insuring a strong and healthy calf that has a good chance of entering a veal raising operation. This means holding on to these calves for some extra days risking the chance of scours or worse yet death. Veal managers do not want light, less vigorous and very young bull calves for fear of high loss rates as well. Experience tells them that larger and more active calves will do better and result in lower mortality rates and better feed conversion.

There has been another issue creeping onto the scene, that of antibiotic residues in bob veal. Few people are bold enough to think that treating a young calf directly with injectable antibiotics will not result in detectable tissue levels if that animal enters the food chain within a few days. The problem is generally not from injectable products, but from oral scour medications, medicated milk replacers and more rarely colostrum containing antibiotics. Neomycin has been the most common culprit.

Neomycin and tetracycline have both been included in some scour medications and milk replacers for many years. Labeling of these scour treatments can be misleading as to withdrawal times. Medicated milk replacers do not contain treatment levels of these antibiotics, but are formulated for use in heifer calves not calves destined for bob veal. Colostrum from cows treated with oil based dry treatments is most likely to carry residues of significance to the newborn calf. Dry treating less than the labeled days pre-calving, double tubing or treating a slack quarter can result in higher than expected first milking antibiotic levels.
Holding out milk on fresh cows according to the labeled recommendations on dry treatment and not feeding it to bull calves is an extra measure of safety. The vast majority of colostrum will not cause an issue, however. Feeding heifer colostrum to bull calves is a failsafe way of preventing colostrum based problems provided that the practice of dry treating springers is not in place.




Upcoming Events
Coping with PEDs Outbreak Meeting
July 29, 2014
6:30 - 8:30 p.m.
Geneva, NY
Dr. Michael Pierdon with 4 Star Vets will come to NY and provide an update on the swine virus.

Low Stress Cattle Handling Clinic for Beef Producers - Dryden
August 5, 2014
6:00 - 8:00 p.m.
Dryden, NY
Creating and managing movement is the key to effective dairy cattle handling and plays a critical role in both cattle well-being and worker safety.

Low Stress Cattle Handling Clinic for Dairy Producers
August 5, 2014
10:30 - 12:30 p.m.
Clifton Springs, NY
Creating and managing movement is the key to effective dairy cattle handling and plays a critical role in both cattle well-being and worker safety.

Announcements
2014 Cornell Field Crop Guidelines Available
The 2014 edition of the Cornell Integrated Field Crop Management Guidelines is available.
The Cornell Guide for Integrated Field Crop Management provides up-to-date field crop production and pest management information for New York State. It has been designed as a practical guide for field crop producers, crop consultants, pesticide dealers, and others who advise field crop producers. Crops included in this Guide include field corn, forages, small grains, and soybeans. The cost of this guide is $25 plus shipping. You can order this publication, or other Cornell Guidelines, through Cornell Copperative Extension offices or from the Cornell Store at Cornell University at 800-624-4080.
Social Media, New Tools for Extension
Rapid communication is critical to the success of the agricultural industry. Many farmers use phone, email, and traditional websites every day. However social media such as Facebook, Twitter, YouTube, Google Maps, and blogs are just beginning to be used to share timely information in order broaden the reach of Extension. The NWNY Team is active on a number of these sites. We are on
Facebook
and new content is posted every week keeping farmers, industry, and the general public informed of current conditions in the field, national issues that impact western New York farms, and informational resources. Google Maps is currently being used to communicate the progress of 15 on-farm research locations in western New York through weekly photo and video uploads. Google Maps also has large potential as an Extension tool, including helping farmers to network in the region in the emerging malting barley industry, precision agriculture adaption, and local hay marketing. The team is also exploring the use of YouTube and Twitter to better serve the region in addition to updating the team's webpage and blogging.
Google Map for the Winter Small Grain Nitrogen Rate Trial:
Map
Northwest New York Dairy, Livestock & Field Crops - Cornell Cooperative Extension
Your Trusted Source for Research-Based Knowledge