The Bob Veal Calf Concern
Jerry Bertoldo, Dairy
Northwest New York Dairy, Livestock & Field Crops
March 1, 2013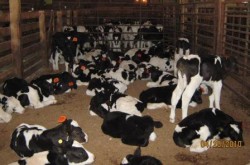 Bull calves in the dairy business are most often a topic that producers would rather not think about. The financial returns from selling them are usually low. There are unavoidable labor costs in their care. The sooner they leave the farm the better is the usual mantra. Too many of these critters become bob veal - early slaughtered calves with minimal economic value. Farmers are reluctant to put more time and effort into insuring a strong and healthy calf that has a good chance of entering a veal raising operation. This means holding on to these calves for some extra days risking the chance of scours or worse yet death. Veal managers do not want light, less vigorous and very young bull calves for fear of high loss rates as well. Experience tells them that larger and more active calves will do better and result in lower mortality rates and better feed conversion.

There has been another issue creeping onto the scene, that of antibiotic residues in bob veal. Few people are bold enough to think that treating a young calf directly with injectable antibiotics will not result in detectable tissue levels if that animal enters the food chain within a few days. The problem is generally not from injectable products, but from oral scour medications, medicated milk replacers and more rarely colostrum containing antibiotics. Neomycin has been the most common culprit.

Neomycin and tetracycline have both been included in some scour medications and milk replacers for many years. Labeling of these scour treatments can be misleading as to withdrawal times. Medicated milk replacers do not contain treatment levels of these antibiotics, but are formulated for use in heifer calves not calves destined for bob veal. Colostrum from cows treated with oil based dry treatments is most likely to carry residues of significance to the newborn calf. Dry treating less than the labeled days pre-calving, double tubing or treating a slack quarter can result in higher than expected first milking antibiotic levels.
Holding out milk on fresh cows according to the labeled recommendations on dry treatment and not feeding it to bull calves is an extra measure of safety. The vast majority of colostrum will not cause an issue, however. Feeding heifer colostrum to bull calves is a failsafe way of preventing colostrum based problems provided that the practice of dry treating springers is not in place.



Upcoming Events
Winter Dairy Management - Batavia Location
March 9, 2015
10:00 a.m. - 2:30 p.m.
Batavia, NY
For dairy farmers, the pleasure of historically high milk prices in 2014 has turned into the prospect of significantly lower milk checks for 2015. The component based pricing system for milk offers a means to achieve higher profits with the same level of milk production. Many producers have gained and maintained higher milk components even with Holsteins consistently surpassing the 3.5% BF and 3.0% MP standards.

FSA Borrower Credits available

Alternative Energy Workshop
March 17, 2015
9:00 a.m. - 2:00 p.m.
East Aurora, NY
Curious about utilizing alternative energy for your farm? Want to learn how to save on farm energy costs during a long cold winter? Join us for the Alternative Energy Workshop.

Hear from farmers who are already using alternative energy, learn about the USDA Rural Energy for America Program (REAP), explore options in using alternative energy on your farm, and meet local alternative energy vendors.

Lunch provided!

Adding Value To Livestock Through Better Communication With The Butcher
March 19, 2015
6:00 p.m. - 8:30 p.m.
Arkport, NY
Join the Tri-County Graziers for some cabin fever relief and expert advice on processing and adding value to locally-grown meat animals. Featuring retired USDA meat scientist and grazier Steve Olson, and Becky Painter of Painter's Custom Meats. Steve will discuss how to maximize value from each animal through better finishing, processing and utilization of higher-value cuts of meat. Becky will offer tips on working with processors when direct marketing. The public is welcome, and everyone interested in raising or buying local meats are especially encouraged to attend.

Announcements
2015 Cornell Field Crop Guidelines Available
The 2015 edition of the Cornell Integrated Field Crop Management Guidelines is available! New for 2015 are three different product options for the Cornell Guidelines. Users can obtain a print copy, online-only access or a package that combines print and online access. The print edition of the 2015
Field Crops Guide
is $26 plus shipping. Online-only access is $26. A combination of print and online access costs $36.50 plus shipping costs for the printed book.
Cornell Guidelines can be obtained through your local Cornell Cooperative Extension office or from the Cornell Store at Cornell University. To order from the Cornell Store, call (800) 624-4080 or order online at:
Cornell Store
Deadlines Reminder...
The new Farm Bill contains a number of important changes to USDA programs that will impact our farmers. They are outlined below:
Ag Risk Coverage (ARC) & Price Loss Coverage (PLC)
replace the Base Acres programs, leaving the decision of which program to participate in up to the producer. The Agricultural Risk Coverage (ARC) & Price Loss Coverage (PLC) programs are managed by the Farm Service Agency (FSA). Both programs are limited area risk programs, limited because of how little of the producer's risk is covered and will commit your farm for 2014-2018. More information on these choices is provided in the attached Vermont Corn Silage & Grain Corn fact sheet. These are complicated programs that need to be carefully reviewed in order that you make the best choice for your operation by the following dates:
February 27:
deadline to update yields and re-allocate bases for ARC/PLC.
March 31:
Final date to make an election in the ARC/PLC program.


Contact your county Farm Service Agency (FSA) office for details.

Crop insurance remains as the primary disaster protection
that can cover from 50%-85% of your expected crop value in addition to the ARC/PLC programs. This year?s price election for corn silage is $38.50/ton, down from $41.25 in 2014. The cost of your premium is subsidized by the USDA up to 67% and the enterprise unit option can reduce premium costs by as much as 50%. A list of crop insurance agents is enclosed for your convenience.
NAP from FSA is available to provide protection up to 65% of the expected value of crops that are not insurable.
March 16:
sales closing/policy modification deadline.
Noninsured Crop Disaster Assistance Program (NAP) has been expanded to include higher coverage levels, up to 65% of the crop yield, at 100% of the FSA established prices. NAP offers protection for crops not insured by other RMA policies. Contact your local FSA office for details.

March 16: deadline to enroll/modify a policy.
Whole Farm Revenue Insurance provides insurance for all commodities on the farm, tied to your Schedule F. Protects specialty and organic crops and livestock and those locally and direct marketed.


March 16: deadline to enroll


Conservation Compliance: In order to receive crop insurance subsidies for 2016 a producer must certify compliance with FSA by June 1, 2015. The registration period for 2016 coverage for the Dairy Margin Protection Program (MPP) is from July 1 to September 30, 2015. Nearly 70% of Vermont's dairy farms now have some form of price protection, either through MPP or Dairy Livestock Gross Margin (LGM) insurance.


Dairy Of Distinction Application
Attractive dairy farms give the consumer greater confidence in the wholesomeness of milk and stimulate milk sales which encourages public support of the dairy industry. The award gives recognition to the dairy farmer for maintaining a well-kept farmstead. To download a copy of the application go to:
New York Application
Northwest New York Dairy, Livestock & Field Crops - Cornell Cooperative Extension
Your Trusted Source for Research-Based Knowledge